February 2023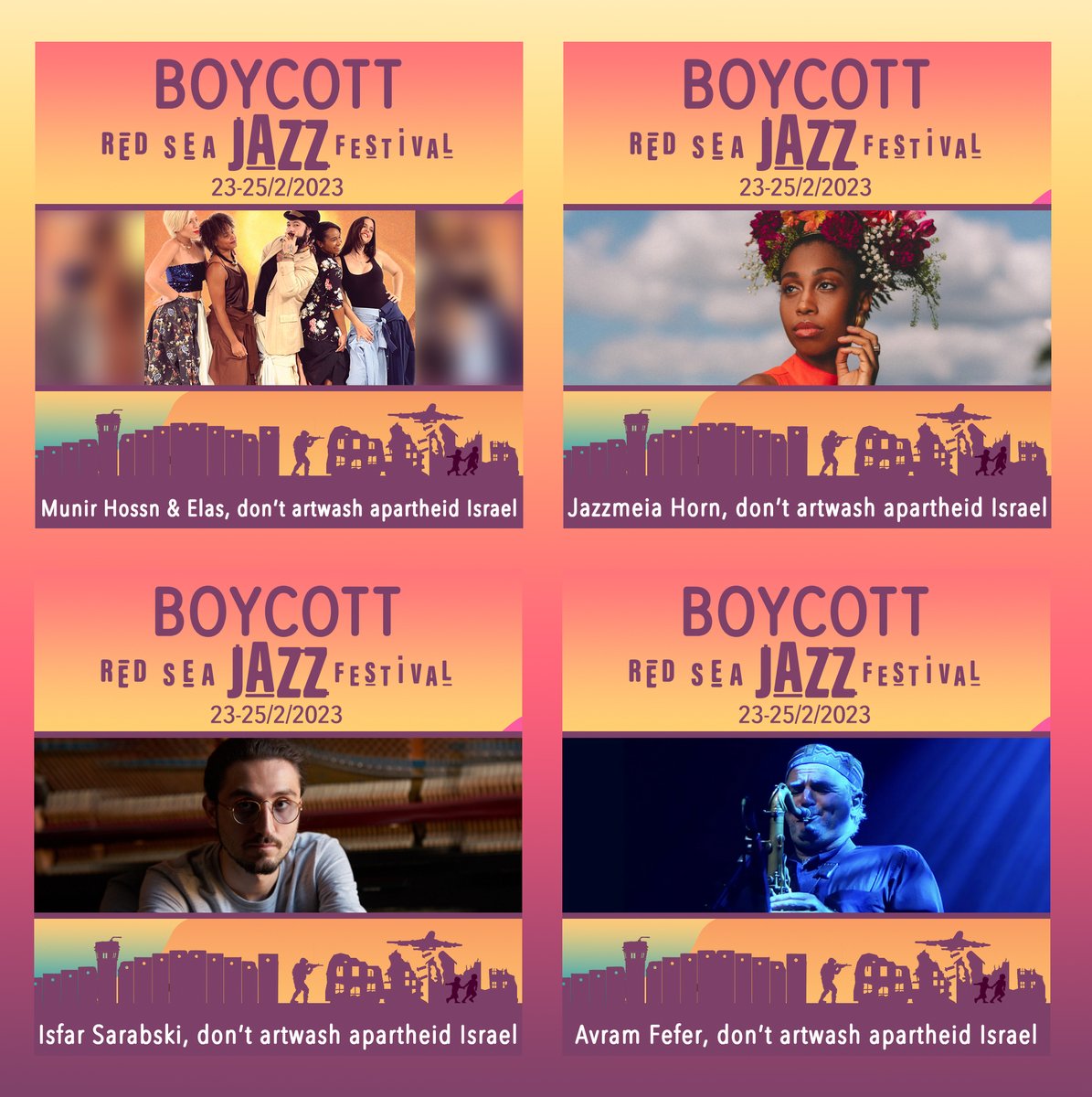 Israeli citizens to musicians scheduled to perform in the Red Sea Jazz Festival: Refuse to whitewash apartheid
Dear, Munir Hossn & Elas, Isfar Sarabski, Jazzmeia Horn, and Avram Fefer,
We are hundreds of citizens of Israel who oppose our government's continuing displacement of the indigenous Palestinian people via military occupation and apartheid policies [1]. We write to you in order to make sure that you are aware of all the implications of performing in Israel at this time. We ask that you postpone your concerts, to the time when Israel ends its military occupation and apartheid policies. Please hear us out.
It is impossible not to address the venue of the festival and its history. Between the years 1947-1948, Israeli militias committed ethnic cleansing of the indigenous Palestinian population of Palestine. Over 500 villages were destroyed, and massacres of thousands resulted in the fleeing of half the population in fear for their lives [2]. We refuse to forget that Eilat stands on what was once a Palestinian village called Umm Rashrash [3], and the whole area was renamed after the military operation of ethnic cleansing, shamelessly named "Uvda", which is Hebrew for "Fact", as in "creating facts on the ground". Israel's Tourism Ministry, one of the initiators of the Red Sea Jazz Festival, you're about to take part in, has no qualms about using this name [4].

The Eilat Red Sea Jazz Festival is in no way separate from the government and its policies. It is "initiated by Eilat city hall aid by Ministry of Culture, Ministry of Tourism, Eilat Sea Port, Eilat Hotel Association and various business sponsors" [5]. The reality of Israel at present is that all government ministries are in one way or another involved in the oppression of the indigenous Palestinian population, fundamentally utilizing civilian aspects of the government and civil society to uphold, sustain and perpetuate its military occupation. 
Particularly relevant for you is the fact that Israel's government openly uses cultural events in order to divert attention from its war crimes [6]:
"We see culture as a Hasbara [public relations] tool of the first rank, and I do not differentiate between Hasbara and culture" ~ Nissim Ben-Sheetrit, former deputy director general of the Israel Foreign Ministry
The Israeli Ministry of Tourism advertises and facilitates tourism in occupied Palestinian territories [7], and facilitates tours for artists such as you, as part of generating photo-ops: "video and stills footage of the singer and her entourage, both during the concerts and visits to tourist sites in Israel, to be used in international marketing campaigns." [8]

The Ministry of Culture supports the settlement construction in the West Bank, and actively silences protestation of this war crime [9].

Governmental forces are joined by corporate forces, as can be seen by the example of one of your venues in the Red Sea Jazz Festival, the Eilat Sea Port (Eilat Port Company Ltd.), one of its owners being Israel's government via the Israel Ports Development & Assets Company Ltd. [10] The same Israeli government has besieged Gaza port, closing down not only any means of trade but also one of the main sources of livelihood for the refugees enclosed in this Israeli-army-run open-air prison.
Lastly, there's no way to overlook the recent escalation in the past couple of years. Israel's most recent massacre of indigenous Palestinians besieged in Gaza [11] and its ongoing massacres in the occupied West Bank [12], together culminating in hundreds murdered every year, and the ever-escalating fascism and deepening apartheid policies within Israel itself [13].
Due to all this, in the past decade, other jazz musicians have also canceled their participation in the Red Sea Jazz Festival, including Eddie Palmieri, Jason Morana, Portico Quartet, Tuba Skinny, Andreas Öber, and Stanley Jordan. Since Jazz festivals have become one of Israel's most commonly used forms of public relations, many jazz, blues, and soul musicians have canceled their performances at similar state-initiated Jazz festivals. Others have expressed regret after learning of the political situation here. Some names which come to mind are the late Gil Scott-Heron, Cassandra Wilson, and Meshell Ndegeocello. [14]
The Red Sea Jazz Festival could have been a festival to celebrate the free spirit of Jazz music, and this empowering tradition of oppressed minorities. Instead, it uses music as a tool for whitewashing military occupation, apartheid, and the ethnic cleansing of the indigenous Palestinian people. In view of all this, we are asking you: Please cancel your participation in the festival. Boycott Apartheid.
We will gladly address any questions or comments you may have.
Sincerely,
Boycott! Supporting the Palestinian BDS Call from Within
http://www.boycottisrael.info/
[1] http://www.boycottisrael.info/
[2] http://en.wikipedia.org/wiki/1948_Palestinian_exodus
[3] http://ww4report.com/node/5991
[4] http://goisrael.com/tourism_eng/tourist%20information/discover%20israel/...
[5] http://www.redseajazzeilat.com/en/about/
[6] http://www.haaretz.com/misc/article-print-page/about-face-1.170267?trail...
http://pulsemedia.org/2010/08/23/we'll-take-over-the-world-ministry-of-foreign-affairs-allocates-100-million-shekel-for-state-branding/
[7]http://mondoweiss.net/2012/11/israeli-ministry-of-tourism-map-annexes-ov...
[8] http://pulsemedia.org/2012/12/12/israel-2012-the-question-of-a-nation-wh...
[9] http://www.jpost.com/Israel/Culture-Minister-Livnat-slams-artists-for-Ar...
[10] http://eng.israports.co.il/IsraelPortsCompany/aboutcompany/israports/Pag...
[11] https://reliefweb.int/report/occupied-palestinian-territory/updated-report-israeli-massacres-during-military-attack-gaza
[12] https://internationalviewpoint.org/spip.php?article7951#:~:text=2022%20has%20been%20the%20deadliest,began%20recording%20fatalities%20in%202005.
[13] https://www.adalah.org/en/content/view/10770
[14] Eddie Palmieri, Jason Morana, Tuba Skiny http://www.ynetnews.com/articles/0,7340,L-4109716,00.html
Portico Quartet http://www.ynetnews.com/articles/0,7340,L-4317601,00.html
Andreas Öber http://refrainplayingisrael.blogspot.co.il/2012/12/andreas-oberg-respect...
Stanley Jordan http://electronicintifada.net/blogs/alexander-billet/thanks-stanley-jord...
Gil Scott-Heron http://www.counterfire.org/index.php/news/1-latest-news/4764-gill-scott-...
Cassandra Wilson http://www.haaretz.com/print-edition/news/cassandra-wilson-cancels-holon...
Meshell Ndegeocello https://twitter.com/OfficialMeshell/status/342311007412183040 ; https://twitter.com/OfficialMeshell/status/342447140938842112 ; https://twitter.com/OfficialMeshell/status/347759388070645760